The One Thing: DS Women's Retreat (DS)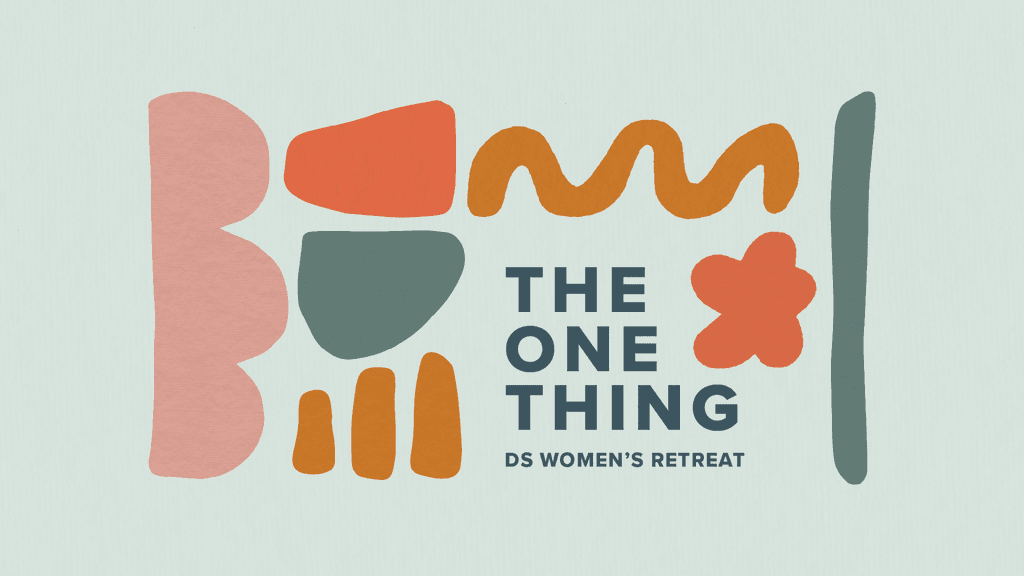 The One Thing: DS Women's Retreat (DS)
When
03.31 - 04.02
Campus
Where
Jordan Ranch
2123 FM 2238
Schulenburg, TX 78956
Cost
Early Bird: $225-$275 | After Nov 26: $245-$295
The Dripping Springs Ridge Women's Retreat will be a weekend for us to get away and leave our daily distractions behind. Our intention is for you to grow deeper in your relationship with Christ while offering a fun, unplugged experience where you can connect, relax and develop intentional friendships with the women of the Ridge Drip. 
Hotel-Style Accommodations: Early Bird: $275 | After Nov 26: $295
Lodge-Style Accommodations: Early Bird: $225 | After Nov 26: $245

Early bird retreat pricing is available until Nov 26.
Scholarship requests may be made through the registration form.
---


THE WHERE!
Jordan Ranch is a retreat facility nestled in the Texas hill country centrally located between Houston, Austin, and San Antonio. Guests enjoy fresh meals provided by an executive chef, a choice of accommodation styles, dozens of activities, and free Wi-Fi.
Jordan Ranch
2123 FM 2238
Schulenburg, TX 78956

THE WHEN!
This weekend getaway begins on Friday, March 31, and will conclude on Sunday, April 2. Check-in will open at 4:30pm on Friday, and you can enjoy the grounds and views before dinner at 6pm.

HOME SWEET HOME...FOR THE WEEKEND!
There are two rooming styles to choose from.
The Ranch
The Ranch is a hotel-style facility. The rooms are warm and furnished with white linens, fabric-fitted headboards, en-suite bathrooms, and windows overlooking the grounds. Each guest will have their own twin bed.
NOTE: Bed linens, towels, travel-size toiletries, and a hair dryer are provided in each room. **There are limited spots in the Ranch. Please register early to secure your spot!
The Lodge
The Lodge is a bunk room for those that prefer 'camp-style' accommodations. You'll have a twin-sized bottom bunk with a privacy screen between you and the next bunk. Communal bathrooms are brand-new and offer quartz sink tops and walk-in showers.
NOTE: Bed linens + Comforter, towels, and travel-size toiletries are provided for each Lodge guest.
Roommate Requests: We will do our best to make you roomies! When prompted on the registration form, please include the FIRST and LAST name(s) of those you would like to room with. PLEASE NOTE: Room assignments will be based on a first-come, first-served basis and as space allows. All roommate requests are due no later than March 1, 2023.
Going Potluck on Roommates: If you are going potluck with roommates…that's so fun! Our team will play matchmaker, so just leave the details to us.


THERE'S LOTS OF FUN TO BE HAD!
There is free time scheduled on Saturday and it can be whatever you need it to be! Need to truly retreat and spend time alone and with Jesus? We'll have a guide for rest and reflection for you and designated quiet spaces. Want to spend some time finding refreshment through play? You'll have access to the fun things Jordan Ranch offers, activities like zip-lining, ping pong tables, fishing in the stocked pond, swimming in the TWO pools, starting a pick-up sand volleyball match, feeding the longhorns, playing corn hole, or other guided walks and fun activities we've planned just for you! We hope everyone will join us on Saturday night to play BUNCO. You don't want to miss it!
Just remember: You can fill up your time with as much or as little activity as you like – it's your retreat!


THE SCHEDULE!
We could always plan more. And we could always plan less. But we prayerfully designed a weekend for this year's retreat somewhere in the middle – hoping to create an environment that fosters community, time for learning, and worship with a good mix of fun and plenty of options to rest or play. No matter how long you've been at Austin Ridge or what season of life you're in, we believe this weekend has something for all of us!
The Ridge Women Teaching Team will lead us through four sessions:
Session One: One Thing is Needed: What do you choose?
Session Two: One Thing to Seek: What do you seek?
Session Three: One Thing to Serve: Who do you serve?
Session Four: One Thing to Obtain: What's your goal?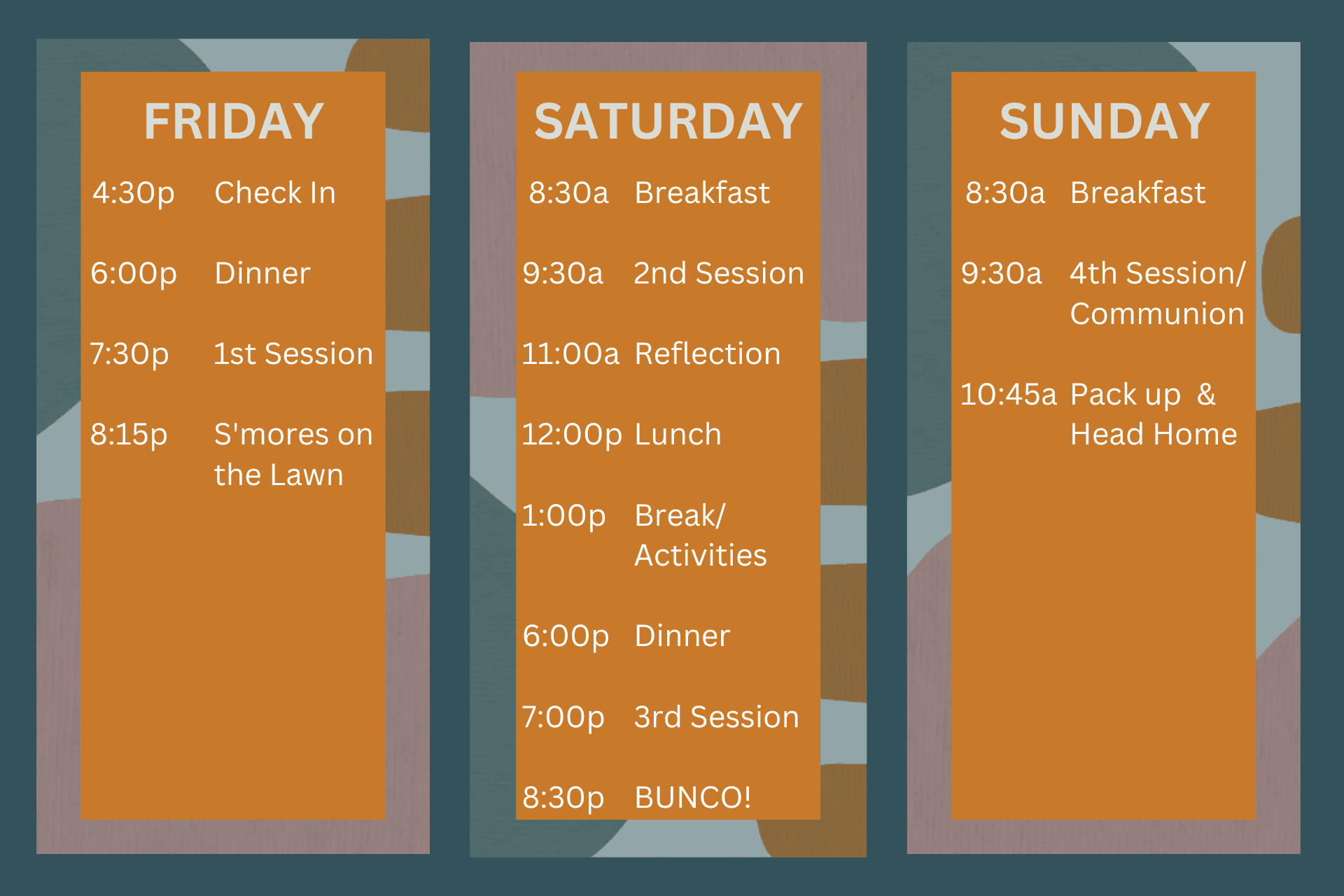 ---

FREQUENTLY ASKED QUESTIONS
What does my retreat registration include?
Registration includes lodging in either a hotel-style room or bunk room (all bed linens, towels, travel size toiletries provided), meals (Friday dinner through Sunday breakfast), teaching sessions and worship, free time activities, late night snacks along with a retreat t-shirt, and some pretty cool swag.
I haven't shared sleeping space with other women in forever! What if I am a light sleeper, have a roommate that snores, etc.?
For many of us, it may have been since our college days that we have roomed with other women for a weekend. You are welcome to pack earplugs, eye masks, sound machines, etc. for added comfort.
What if I want to request a roommate?
We are able to accept roommate requests. While we aren't able to guarantee your request, we will certainly do our best. The last day to submit a rooming request is Mar 1.
Will I be assigned a top bunk if I choose to stay in the Lodge?
Nope! Only bottom bunks will be assigned.
Do all roommates need to request each other?
Yes - ALL parties must request each other as roommates to be considered for placement.
What if I don't have a roommate request?
No worries! We call that going "potluck". Our team will use the responses you provided on the registration form to prayerfully make rooming assignments.
Will there be a packing list? How do I know what to bring?
Yes! There will be a packing list sent out 1-2 weeks prior to the retreat date.
I have dietary restrictions/allergies. What restrictions are you able to accommodate?
We are able to accommodate vegetarian, gluten-free, dairy-free, and celiac. There will be space on the registration form to communicate your dietary needs.
Will there be snacks/bottled water available during the day or should I bring my own?
There will be snacks available 24-hours during the retreat. Bottled water, sparkling water, granola bars, bananas/apples, etc.
I am in need of financial assistance to attend Ridge Women Retreat? How do I apply for a scholarship?
A scholarship is easy to apply for! Simply select the SCHOLARSHIP REQUEST option when you register. We will be in touch shortly with a response and next steps.
I would like to set up a payment plan. How do I do that?
There are no special steps to create a payment plan. Simply complete the registration form and follow the payment prompts. The minimum payment required to register is a $50, non-refundable deposit. You will receive payment reminder emails along the way and may pay any amount you'd like until your balance is paid in full. Please be aware, FINAL PAYMENT is due March 1, 2023. Rooms will be released after this date if full payment has not been received. Payment in full is required to attend. Refunds may be requested until March 1, 2023, however, the $50 deposit is non-refundable.
I would like to financially help women come to the Ridge Women Retreat. How do I give?
We are grateful you are interested in helping women that need financial assistance to attend the Ridge Women Retreat. You will be given the choice to make a donation on the registration form. If you'd like your donation to benefit a specific friend, please email those details to dswomen@austinridge.org.
Can I get a refund if my plans change?
Yes, we understand sometimes plans can change and things come up! We are able to give a full refund, less the $50 deposit, until March 1. No refunds will be given after that date.
Will retreat registration close?
In order to prepare for each retreat guest, registration will close on March 1.
Is a daily pass available for the retreat?
Daily passes are not available for the retreat. We want you to come and be refreshed for the whole weekend. We promise it will be a life-giving and encouraging time for you.

---
Register Today
Have Questions?
Holly Dvorak

Ministry Assistant

Dripping Springs

Holly Dvorak

Ministry Assistant

Dripping Springs

Originally from Virginia and more recently a resident of Charlotte, North Carolina, Holly and Todd relocated to Austin in 2018. God's perfect timing led them to Texas just as the youngest of their three sons graduated from college. Now that their boys live all over the United States, their favorite pastime is planning great trips and adventures where they can reconnect as a family and enjoy the amazing scenery and handiwork of God. On a more personal note, Holly's passion for all things "organization" has been a blessing to the many homes and families she has served over the years as a family manager coach. Now, God is using those gifts and talents at the Dripping Springs campus.

---