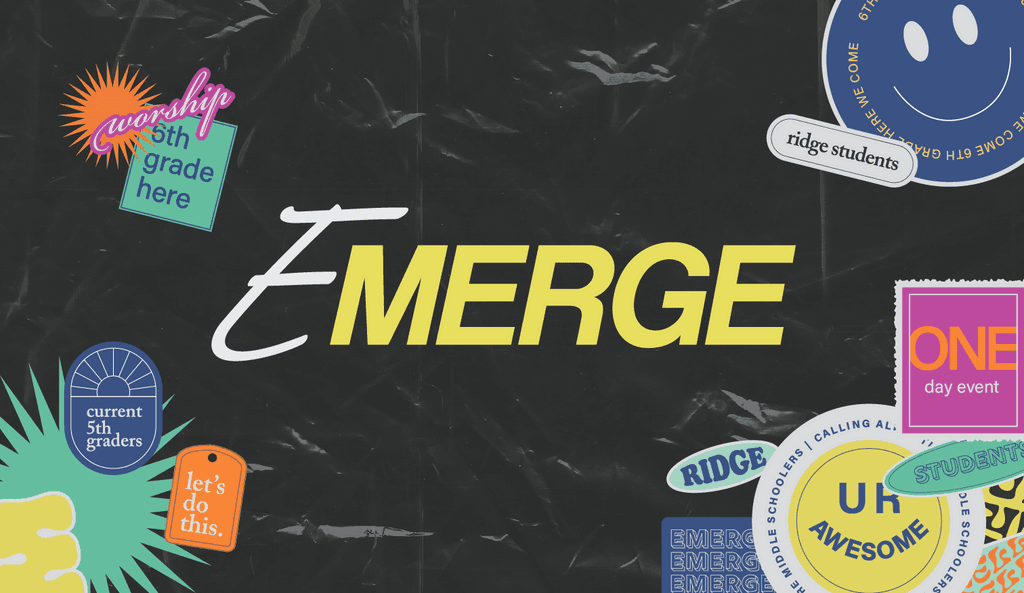 EMERGE
When
05.06 | 8:30am-8:30pm
Campus
Where
Drop off and pick up at your registered campus
Cost
$75
Rising 6th graders! 
Middle school is just around the corner, and we can't wait to welcome you to Ridge Students!
Plan to join us for EMERGE, an all-day event designed to prepare you for the transition from Ridge Kids to Ridge Students. Meet your RS directors and leaders, make new friends, and enjoy an afternoon of fun at Austin's Park. You'll also get to test drive the games, teaching, and worship you'll experience when you are promoted to Ridge Students in June. 
Invite a friend and sign-up today!
DETAILS:
Drop-off: 8:30am at your registered campus
Pick-up: 8-8:30pm at your registered campus
Includes: Lunch, dinner, transportation to and from Austin's Park, and park tickets
Registration Closes: Sunday, April 30
Payment: Due in full at time of registration
Refunds: Available until Friday, April 21

---
Register Today:
Dripping Springs Scholarship Form
---
Have Questions?
LaRhonda Niccum

Children's Ministry Assistant

Bee Cave

LaRhonda Niccum

Children's Ministry Assistant

Bee Cave

LaRhonda was born and raised in Indiana. She and her husband moved to Houston in 1994. They moved to Austin in 2011 and fell in love with the city. In 2018 they moved back to Houston, but that would not last long, and in 2020 they returned to Austin. LaRhonda graduated from Purdue University, majoring in Math and minoring in Education. LaRhonda taught high school for four years and then became a full-time mom. She has four grown children and loves spending time with them and being active outdoors. She is excited to be a part of Ridge Kids and looks forward to seeing what God will do!


Tiffany Wolfe

Preschool Director

Dripping Springs

Tiffany Wolfe

Preschool Director

Dripping Springs

Tiffany is from New Braunfels, Texas, and moved to the Dripping Springs area with her husband at the beginning of 2021. She received a Bachelor's degree in Kinesiology from Texas A&M University and a Master's degree in Child Life from Texas Women's University. Tiffany has a heart for working with children and families and loves a good board game, being outdoors, and trying new recipes.


Bethany Flummer

Preschool Director

Southwest

Bethany Flummer

Preschool Director

Southwest

Bethany grew up in San Antonio, Texas and graduated from Texas A&M University with a degree in Elementary Education. She loves hiking, getting tacos with friends, and curling up on the couch with a book and her cat. Bethany spent a few years serving in various kids' ministries, most recently completing a children's residency program in College Station. She is excited to join the Austin Ridge helping our kids, know, grow, and serve Christ

---